A Springhouse
---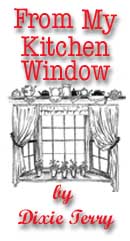 ---

The page layouts on this website are optimized for 800 x 600 screen resolution, but should still display all information at other screen settings. If you don't know how to change your screen resolution, click here.
If you are an IE user, click here to automatically bookmark Springhouse Magazine Online.
.
Welcome to our Springhouse!
There was a time when many springs were topped by springhouses, small buildings often constructed of stone. Spring water issues from the earth at a constant temperature of about 65 degrees in any season of the year. Although built for keeping cool milk and cream and other perishables, a springhouse also served as an escape from summer heat and a quiet retreat when company got too boisterous.
Our Springhouse offers neither milk nor cool stones, but treasure of another sort. The rich feast that is southern Illinois spills from our pages. In no particular order, we offer history and nostalgia and folklore, plus recipes and even a poem or two.
We at Springhouse are always eager for comments on our magazine or web site. Let us know what you think, and would like to see. Please send us an email.
Check in from time to time to see what the current issue has to offer. Always there will be changes because life is what it is, and this is Springhouse, The Adventure Shaped Like a Magazine.
---
Accustomed to jousting with windmills, thinking they were dragons, the old Spanish knight Don Quixote seemed perfect for our cover. Fr

om the beginning, our very existence has always seemed something of an anomaly, a break in the order of things, and while we always saw windmills as windmills only, in other ways Springhouse ventured forth no better prepared than Don Quixote would have been. Eager to offer our two cents worth of insight when study and analysis were required, we carved our niche into the landscape without taking on a single windmill.
Incidentally, the drawing of Don was used in early issues from time to time and first appeared on the June 1986 cover. From that point on this ancient knight of ancient Spain has proudly raised his lance on the left-hand corner of every Springhouse and will continue to do so until our Adventure Shaped Like A Magazine heads into the sunset.
OZARK ECHOES
(Letters [or stories] to the Editor)
Send your Letters to the Editor to Ozark Echoes, c/o Springhouse, P.O. Box 8, Herod, IL 62947, or send an email to: echoes@springhousemagazine.com
CURRENT ISSUE

Now in our 31st Year!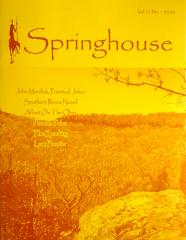 Here's what is in
Vol. 31, No. 1
of Springhouse.
Springhouse Ink
The Spanking
John Murdick, Practical Joker
A Cave Boy Who Found Happiness When Marking
End of Illinois
Of Light Verse and Lightning
Possum Tales - Kestner Wallace
What? Is It Nearly Summer Already? - Brian DeNeal
Late Winter, Early Spring
Feathers Of The Wild Frontier
From My Kitchen Window - Dixie Terry
Observations Concerning Southern Illinois, Mostly - R. Brookes, M.D. and John Marshall, Esq.
Summer Complaint - Tom Martin
Honest Democrat Forever!
Looking Back At Lost America - Rebel Without Applause
Novel Rooted In Southern Illinois - James Ballowe
Afloat On The Ohio - Gordon Pruett
A Race That Lives In Mountain Coves - Sarah Barnwell Elliott
Memory Doesn't Bother To Knock—It Uses A Battering Ram
Runaway Slave - Pete A. Downey
At Last Revealed—Five Rules For Taking Photographs
Keep Bleeding, Please
Curious Gifts, Strangely Packaged
Living On Borrowed Time Club
---
Springhouse Magazine
P.O. Box 8
Herod, IL 62947
Phone 1-618-276-4251
Questions, Comments, Suggestions? We'd love to hear from you. E-mail us.
---

Rawhide, our favorite rebel, made his SH debut with these, his first five contributions - and he's been a Springhouse regular ever since.
Rawhide Chronicles 1
Rawhide Chronicles 2
Rawhide Chronicles 3
Rawhide Chronicles 4
Rawhide Chronicles 5
---