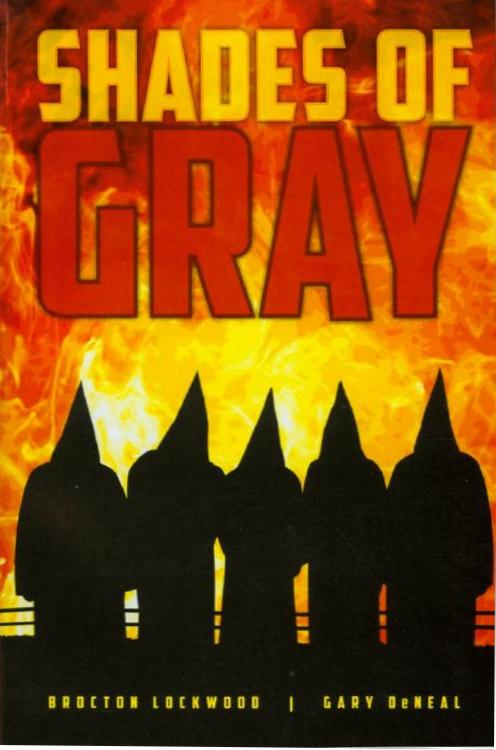 Click HERE for a printable Order Form
Lockwood – a retired Associate Judge of the Circuit Court in Illinois and author – has co-written an historical novel about those days with local author Gary DeNeal called "Shades of Gray." The book may be printed within two week.

Lockwood said though accounts of the massacre and the violence that followed are numerous, he was interested in a story told by his former neighbor. The neighbor's father was a juror who told stories about the defense paying off the jury and through two trials none of the miners were found guilty.

"The things he raised, I wanted to find out if they were true. I went researching that matter and found most of the file was gone which kind of made me suspicious. I started to build up on it over the years," Lockwood said.
Lockwood was able to obtain the closing arguments of Williamson County State's Attorney Delos Duty.

"It was clear Delos Duty knew the jury was in the pocket of the defense," Lockwood said.

Duty was trying to prosecute six miners for the murder of the strike breakers, but Lockwood believes the defense presented very effective private arguments to the jury members.
"I couldn't prove it beyond reasonable doubt, but I have a reasonable degree of certainty, more likely than not, they were paid off," Lockwood said.

One story Lockwood has heard and incorporated into the novel involves a message and an umbrella.

"The experience of one juror, he was never asked to do anything. It was just clear what he was supposed to do," Lockwood said.

A man approached the juror during a break.

"He said, 'If I were you I'd walk north from the courthouse carrying an umbrella.' He did and a man handed him a package and said, 'The United Mine Workers appreciate you for what you've undertaken,'" Lockwood said.

Brocton Lockwood signs a copy of his historical novel,

Shades of Gray

.Shown on the inside front cover is Delos Duty, a major figure in the book. Gary DeNeal is co-author.
At home the juror found inside the package $800, enough to pay off his farm loan.

The Herrin Massacre was a national story that prompted even the President of the United States, Warren G. Harding, to describe the people of Southern Illinois as "barbaric."

Lockwood said his mother went to Washington, D.C. to sign up with the American Red Cross prior to World War II with the intent to travel to Honolulu, Hawaii.

"Instead of Carbondale, she used St. Louis, Mo., (as her address) because of the hostility that still existed 20 years later," Lockwood said.

The novel's narrator is a character named Jody Powell, a 15-year-old boy who witnessed the massacre. In "Shades of Gray" Powell is 50 years older and recounts the horror of that day. Powell leads the reader through the organization of the Ku Klux Klan by Protestant ministers as an entity to help clean up Williamson County and its image. S. Glenn Young was its leader and bootlegger Ora Thomas was leader of the opposing group, The Flaming Circle.

The KKK would hold cross burnings in the Italian neighborhood until members of The Flaming Circle – mainly coal miners – would surround the clan in a circle holding torches.

Lockwood wanted to fill in the gaps between the massacre and the shootout that resulted in the deaths of both Young and Thomas in the European Hotel.

"The events we all know about. We don't know what was behind them," Lockwood said.

"We've tried to show what happens in a massacre or what happens when a man gets his throat cut and you don't expect it. It has a way of lasting a long, long time."

Lockwood had his stories together and wrote a version of the book, but decided he needed some assistance.

"The book wasn't ready to go. I didn't like it. There were too many stories. I'd believed they were justified because they told the story of the times, but didn't feel it had any direction. I felt like it was going off on tangents," Lockwood said.

He turned to his friend Gary DeNeal who edits and publishes "Springhouse" magazine and who authored "Knight of Another Sort: The Prohibition Days of Charlie Birger."

DeNeal took a special interest in the narrator and what might happen to a person who after 50 years has refused to tell his family about witnessing a massacre.

"I had a sense this character whose name is Jody Powell was emotionally retarded and at the very end he was kind of exploding. He was coming apart at the seams," DeNeal said.

The collaborators knew the book to be true to the known history of the time and knew there was potential. But they still had doubts.

"Somebody needed to go through this thing and make a story out of it," Lockwood said.

They asked another friend, also a former judge and former Saline County States Attorney, David Nelson, to edit their manuscript.

"My version and his version together didn't go together very smooth," Lockwood said.

"David created a kind of stability out of the chaos," Lockwood said...

* DeNeal receives e-mail at mailto:bdeneal@yourclearwave.com .
Copyright 2011 The Daily Register. Some rights reserved
SHADES OF GRAY is now available for $23.00 (tax and postage included), from:
The Book Peddler
Brocton Lockwood
3017 Pine Ridge
Herrin, IL 62948
Click HERE for a printable Order Form